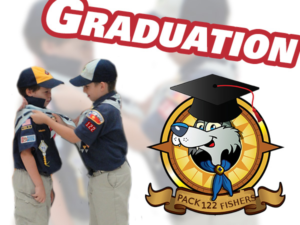 Thank you for another amazing year of Cub Scouts! In celebration of your son's year of scouting, we are holding our Pack Graduation at 6:00 PM on Saturday, May 19, 2018 at Camp Belzer, 6102 Boy Scout Rd. Indianapolis, IN 46226. The pack is providing drinks (water and lemonade), burgers, hot dogs and cake for dinner from 6:00 – 7:00 PM in the Gyro Club Dining Room. It is our understanding that Camp Belzer is on well water so we are suggesting families bring their own drinks if they don't want to drink the provided water and lemonade. Please bring whatever side dishes your family would like with dinner. Graduation will take place outdoors at the Kiwanis Shelter weather permitting (graduation will be in the One America Room if the weather doesn't cooperate).
Dinner: Saturday, May 19, 6:00-7:00 PM, Gyro Club Dining Room
Graduation: Saturday, May 19, 7:00 PM, Kiwanis Shelter
After graduation, the pack leadership is holding a planning and budget meeting while the boys participate in outdoor activities. All interested den leaders and parents are welcome to attend. We need several volunteers to help with transitioning leaders exiting the pack – please let me know if you are interested in volunteering.
There is optional camping available for scouts and their families. Camping needs to be completed by Noon on Sunday, May 20, 2018
Thank you for another amazing year of Cub Scouting and please keep an eye out for announcements about optional summer activities.